Bi0Hazard
(PRO)
In this debate, I will be arguing that labor unions will likely eventually be abolished.
Definitions
Labor Unions- an organized association of workers, often in a trade or profession, formed to protect and further their rights and interests.
ought- Either, "used to indicate duty or correctness, typically when criticizing someone's actions" or "used to indicate something that is probable". I will be using the "used to indicate something that is probable" definition of ought in this debate.
abolish-formally put an end to (a system, practice, or institution).
By looking at these definitions, I will be affirming the statement, "The traditional labor union will likely be ended as an institution, practice, and system in the future".
My case
"Labor union membership and strength is in a free fall. From 1954 to 2014, union membership fell from 34.8 percent of wage and salary workers to 11.1 percent." (1)
Union Membership Rate: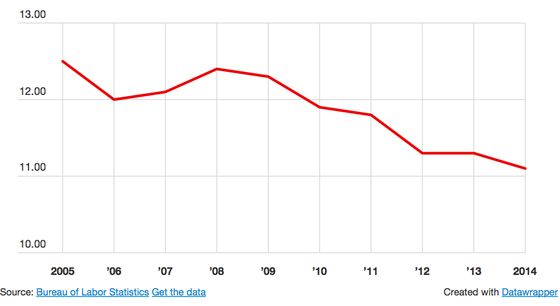 Accessed from here: http://www.theatlantic.com/politics/archive/2015/01/Bureau-of-Labor-Statistics-Report-Shows-Union-Membership-Dropped-to-New-Low/384789/
The Economist puts out the reason for this decline nicely: "Unions have declined largely because they have become less relevant in a global economy. Middle class workers are more likely to be employed by small service firms. This type of labour market offers a higher premium on human rather than firm-specific capital. This leaves little scope for unions. Workers become less reliant on an individual employer and not as dependent on a union to advocate for them. Paying a hefty chunk of your pay cheque for union dues becomes less attractive."(2)
As Globalization rises, labor unions have become more and more obsolete.
As labor union membership have declined and the approval rating has went down, it becomes more clear that labor unions are becoming more and more obsolete in today's economy.
Now, the question is, will labor unions eventually disappear?
As things are looking now, they probably will be abolished in the future. Today, 89 percent of the U.S. population have no access to labor unions (1) and the alternatives of alt-labor is rising (4). It seems that labor unions will continue to decline in our modern economy. There is no reason to suppose that they will rise since the approval rating and membership rate is on continual decline, and they are becoming more obsolete in our more globalized modern economy.
My opponent needs to demonstrate that labor unions will not continue to decline and eventually disappear for their part of the debate.
Thanks for reading
Sources:
(1) https://www.aspeninstitute.org/blog-posts/labor-unions-disappearing-whats-the-future-of-the-worker-voice/
(2) http://www.economist.com/blogs/freeexchange/2009/02/whats_wrong_with_unions
(3) http://www.washingtonexaminer.com/article/2547304
(4) http://prospect.org/article/alt-labor
---
Return To Top | Posted:

2016-12-07 22:14:25

| Speak Round

Yuri
(CON)
Round Forfeited
---
Return To Top | Posted:

2016-12-08 22:15:04

| Speak Round